About Snelson Collision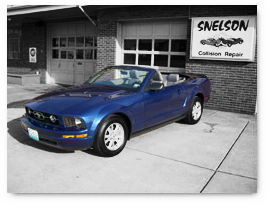 In the late 1940's, Ray Horn built a two bay service garage with an apartment above, where he and his family lived. From this humble beginning at 1822 Grand Ave, Mr. Horn built a thriving auto body repair business. By 1964, when he sold to Ron and Carol Snelson, he had gone through three major building expansions. The facility at this time could now accommodate 16 vehicles. The Snelson expanded once, in 1973, adding two more repair bays. In 1998, the Snelsons being ready to retire, sold to Ken and Nancy Kohnen. Owned by and operated by families since the 40's, the Horn's, the Snelson's and the Kohnen's have always worked hard to provide quality and value to you and your family.
In the last ten years Snelson Collision Repair has invested greatly in the latest technology. These investments are in both equipment and training.
TRAINING: Our shop is I-Car Gold Class certified and two thirds of our employees are I-Car Platinum Individuals. Because we are Dupont OEM (Original Equipment Manufacturer) Refinisher certified and a member of the Dupont Performance Alliance our painting comes with a Lifetime Guarantee. Ken has graduated from the Automotive Management Institute as an Accredited Automotive Manager. All of our Journeyman technicians have ASE certifications. Ken is ASE Master Certified in Auto Body repair and refinishing.
EQUIPMENT: A state of the art downdraft paint booth with baking capabilities helps our refinish technicians produce a very durable "factory like finish" with a perfect color match. Our Chief Automotive frame and uni-body straightening rack and computerized measuring system assures the most accurate realignment of your vehicle. Our resistance spot welder produces welds that duplicate your vehicles original welds in strength and appearance.
Resources: